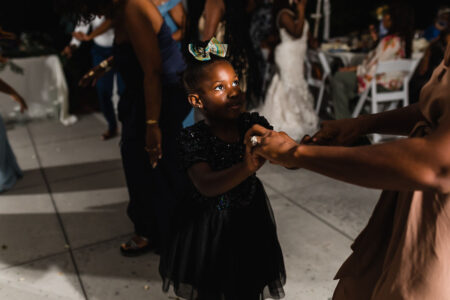 If you're in the middle of wedding planning, you understand that finalizing the guest-list is one of the biggest hurdles you'll need to get through. This will affect the budget, the type of venue you can use, the experience… EVERYTHING!
When brides ask me for advice, I ALWAYS lean on the fact that these decisions are all up to you, your taste, and the type of wedding experience you want to have. There are many people who say that weddings are not events for children… and others who couldn't imagine not having their little friends in attendance. All of them are correct.
While you're making your decision, I've got a few things for you to consider…
CHILDREN INCREASE YOUR GUEST-LIST EXPONENTIALLY
People be having babies. And there's no telling to how many they will have. So inviting one friend with their kids can result in 3, 4, 5 plus seats at a table, filling up your reception hall pretty quickly.
increased guests = increased budget
It's simple math. More people increase costs and shrink venue options. If you're looking to save some money on the wedding, cutting children is a great option.
children are unpredictable
Imagine your baby niece being the CUTEST flower girl. Imagine a baby screaming during your vows. Imagine your nephew creating some core memories on the dance floor. Imagine kids running around your reception and knocking down decorations. All of these are possible.
politely communicate your decision
And remain firm and consistent. Weather you've decided on no kids, 5 kids or a free for all. Don't switch up because a guest is pressuring you to do so. Typically people are invited to weddings with plenty of lead time. They can make arrangements for their children as needed. If you're looking for some verbiage for the invitation, I've got a few for you below:
We would like to request that our wedding be an adults-only celebration.
We respectfully request no children be in attendance.
The wedding will be an adults-only affair.
Event Childcare is an option
Did you know that companies like Tootles Event Sitters exist? These event babysitters guarantee your littlest guests will be safely & securely cared for on-site at your wedding venue. So you can party uninterrupted.
do what's best for you
Remember that it's your wedding, and you have the right to decide who is invited. The key is to communicate your preferences with respect and sensitivity, making sure your guests understand your decision and feel comfortable with it.