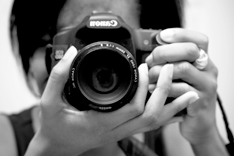 I first began my interest in photography while working in my High School Yearbook committee. From there, I learned the importance of capturing special moments in life & how happy it can make people to see them.
I re-visited my passion after graduating college, picking up my first DSLR in 2008 I was able to combine my technical side with creativity.  Having the support of my friends and family, I've been blessed to photograph several special events including weddings, engagements, newborns, night-life, parties and more.  I was also published in the Orlando Mazine December 2008 issue featuring one of my snapshot from the Obama Rally here in Orlando that year.  My photography is also been featured on MTV.com as well as several flyers and other publications for T. Gaines Entertainment.
Each of my shoots have been an exciting experience and I look forward to seeing what we can create for you.  Please feel free to contact me to schedule your shoot today.