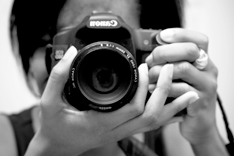 Bring your memories to light in ways you never imagined with Epiphany Image.  I love to capture the special moments, people and things in your life in a unique and beautiful way.
I first began my interest in photography while working in my High School Yearbook committee. From there, I learned the importance of capturing special moments in life & how happy it can make people to see them.
I re-visited my passion after graduating college, picking up my first DSLR in 2008 I was able to combine my technical side with creativity.  Having the support of my friends and family, I've been blessed to photograph several special events including weddings, engagements, newborns, night-life, parties and more.  I was also published in the Orlando Mazine December 2008 issue featuring one of my snapshot from the Obama Rally here in Orlando that year.  My photography is also been featured on MTV.com as well as several flyers and other publications for T. Gaines Entertainment.
Each of my shoots have been an exciting experience and I look forward to seeing what we can create for you.  Please feel free to contact me to schedule your shoot today.
FAQ's
Why Should You Choose Epiphany Image?
Quality photography equipment is becoming more and more accessible.   Anyone interested in the field can produce beautiful photographs with the options that are available today.  In my opinion, this is a double-edged sword.   On one hand,  you now have many more options for creative work when looking for a photographer, but on the other, you can also run into novice users who present themselves as professionals.   When choosing a photographer, I highly recommend doing your research.  Here are a few things to consider:
A Well-Rounded Portfolio
I do my very best to post as many of the images that my clients will allow online.  This way, you can review my work and see what type of photographs that I can produce in different lighting and scenarios.  Hopefully with this portfolio, you have a good idea of my style.
An Honest Photographer
I know my strengths and weaknesses and will respectfully decline a job offer if I know that I can't produce quality images in the scenario a client may need.   I am mostly a natural light, outdoor portrait photographer.  I also have a lot of fun shooting weddings, special events & night-life.  While I'm a big fan of studio photography, I am still learning the craft so I don't offer it to my clients yet.
Professionalism
With respect to my clients, I come to every job on time.  I deliver their images in the time frame promised and I openly communicate if any changes come about.   With the use of my photography agreement and discussions prior to shoots,  expectations are discussed prior to the completion of work so that I can satisfy my clients needs to the best of my ability.
Attention to Detail
The time that you spend in front of my camera is only a fraction of the time it takes to produce your images.  For every client, I sort out the outtakes, color correct, and fully re-touch the winners of the set (before & after's coming soon).  This this is a process that I go through to make sure you look your best.